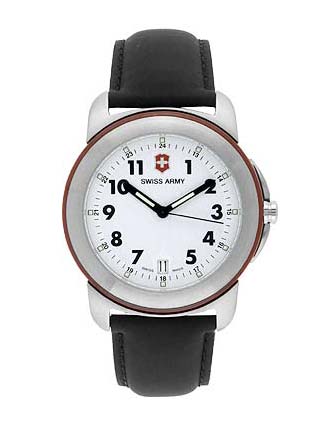 Men's Swiss Army watches
---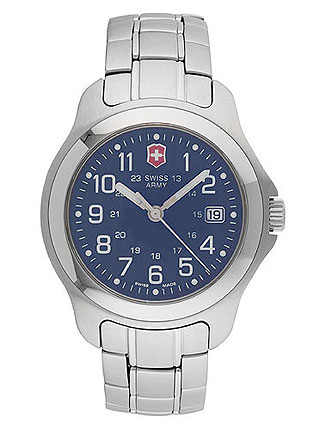 Men's Swiss Army timepieces
---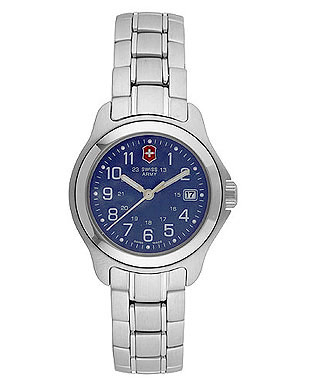 Women's Swiss Army watches
---

Women's Swiss Army timepieces
---
Swiss Army Watches
Innovation, value and precision have landed Swiss Army products in the news since 1881. While not known for elegance in style, Swiss Army watches are considered to be simple and superior. Known for its famous knives, which the company has been producing for more than 100 years, Swiss Army has been a competitor in the watch business since only 1989.
Inspired by the legendary reputation of their knives, Swiss Army Brand watches are essential equipment for all of life's adventures. Prized for their performance and celebrated for their classic design, they have become one of the fastest-growing watch brands in the history of time.

Whichever Swiss Army Brand Watch you select, you can be assured that it was made in Switzerland with precision Swiss-quartz movement. For those who go their own way, there is the Renegade with a black Arnitel strap and easy-to-read analog face with bold markings. To confront any challenge, from the office to the outdoors, send in the Cavalry collection, in polished, gunmetal, rectangle or chronograph styles. Whether it's with a leather strap or stainless-steel bracelet, the Officer's series will have people standing at attention. But remember, there's nothing like an original, such as the Original Red and the Original Black & Polished watches from Swiss Army.
In Swiss Army Brand watches, split-second accuracy meets the spirit of adventure. With its rugged leather strap or stainless-steel bracelet with black scratch-resistant technology, the Raider will go anywhere at any time and return unscathed. For those who go to extremes to be the best at everything they do, a battalion of dial colors is offered in Odyssey Extreme. And the Titanium is a virtually weightless wonder that will keep up with you whatever, wherever and whenever.


Save up to 40% everyday at eWatches.com

The company began with the Victorinox Swiss Army knife, a useful multi-tool pocketknife designed in 1897 by master cutler Karl Elsener who wanted to create work in sparsely industrialized central Switzerland and counter the emigration spawned by unemployment. To go from hand crafting to industrial production was at the time adventurous and required enormous determination.

Today, Swiss Army not only produces knives, but also manufactures cutlery, writing instruments, sunglasses and watches. Swiss Army watch aficionados depend on the timepieces' simple design, numbers on the dial that are big enough to read and price points that match the quality. While the trend in today's watch industry is to pack watches with loads of frills - including many high-tech features such as internet access - Swiss Army sticks to a clean, simple style, a style many fans have grown to love and appreciate.

Equipping adventurers, explorers and accountants all over the world, Swiss Army offers a wide variety of styles to meet every consumer's needs, and can surely meet yours! If you're looking for timekeeping in a classic, professional, travel or sporty style, Swiss Army has the perfect watch for you. There's the Night Vision wristwatch that features a built-in Led flashlight, UV lighting and a Led locator beacon. The lightweight timepiece is powerful enough to brighten up a pitch-black room or to help you find your elusive house keys on a gloomy winter morning. Or there's the Original Sai Blue, a vibrant watch for adventure. With its waterproof and water-resistant strap options, this one is ideal for winter trekking.
---