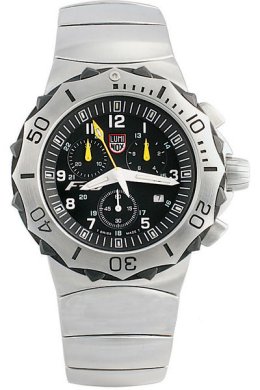 Men's Luminox watches
---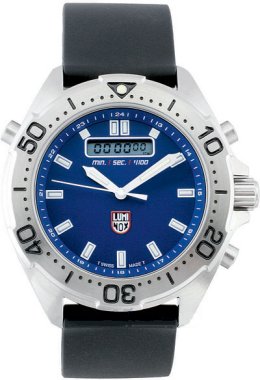 Men's Luminox timepieces
---
Luminox Watches
Luminox watches undergo additional manufacturing steps that are required to install the Luminox self-powered illumination system. Each watch employs tiny self-powered micro gas lights developed by the world leader in the luminous compound industry. These micro gas lights (borosilicate glass capsules) are installed into the hands, hour markers, and when necessary, bezels of our watches. Luminox watches need no external light source to "charge" the paint on the dial or hands in order to glow as do conventional luminous watches. Nor do they require the push of a button to light the dial as do watches with electroluminescence.

Luminox's self-powered illumination–Luminox Light Technology (LLT) allows the user to view time-at-a-glance, no matter what the light level, even in complete darkness. This ease of being able to read time effortlessly fills a vital need for various military and law enforcement groups. It is why the U.S. Navy SEALs Procurement officers requested Luminox to create dive watches for them for night missions. It is also why the U.S. Air Force pilots flying the F-117 Nighthawk™ Stealth Jets requester their own special watch.

Luminox is presently in development on an entirely new ultimate Navy SEAL dive watch that will either come with an ana-digi movement (incorporating analog and digital functions) or be available in analog and analog chronograph as well. Luminox is also developing an entire range of aviator watches as part of the "Lockheed Collection" that will be tied to specific jets such as the F-117 Nighthawk (another new series of watches for this unique jet), the F-16 Viper and Fighting Falcon, the Joint Strike Fighter, the F-22 Raptor (a supplemental Stealth jet), the SR-71 Blackbird (record setting jet of the 1960s), and even the Venture Star (the next Space Shuttle), thus linking Luminox to NASA.


Save up to 40% everyday at eWatches.com

---