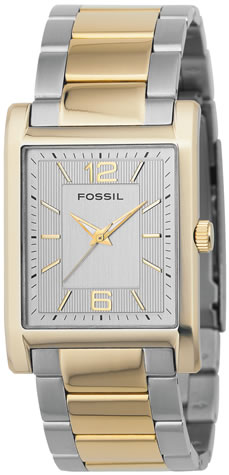 Men's Fossil watches
---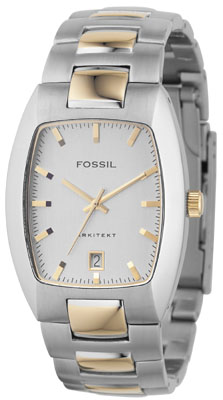 Men's Fossil timepieces
---


Women's Fossil watches
---


Women's Fossil timepieces
---
Fossil Watches
A leading mid-priced watchmaker in the U.S., Fossil sells its fashion watches under the Fossil and Relic brand names. Fossil's wide assortment of men's and women's casual and dress watches includes: FOSSIL®, RELIC®, MW®, MW MICHELE®, WRIST NET", WRIST PDA® and ZODIAC® brands.
The Company differentiates its products from those of its competitors principally through innovations in fashion details. These innovations include variations in the treatment of watch dials, crystals, cases, straps and bracelets for the Company's watches and innovative treatments and details in its other accessories. An in-house creative services team coordinates product design, packaging, advertising and in-store presentations to more effectively and cohesively communicate to its target markets the themes and images associated with its brands. Brand name development is further enhanced through Company-owned stores as well as the Company's website.
Utilizing several wholly and majority-owned watch assembly facilities and centralized distribution points enables the Company to reduce its inventory risk, increase flexibility in meeting the delivery requirements of its customers and maintain significant cost advantages compared to its competitors. Additionally, the Company's centralized infrastructure in development/design coupled with its production/sourcing capabilities allows it to leverage the strength of its branded watch portfolio over an extensive global distribution network.
Founded in 1984, Fossil focused on a special market niche, designing watches that did more than just tell time. Fossil, is a design, development, marketing and distribution company that specializes in range of consumer products specializing in fashion and value. Often Fossil incorporated a nostalgic "retro" Americana design into its brand image. This concept paid off quickly, helping Fossil emerge as the leader of a growing industry.
Fossil seeks to exploit emerging fashion trends to bring consumers innovative products. Fossil also distributes trendy fashion accessories such as leather goods, sunglasses, belts, handbags, wallets, backpacks and a growing line of apparel. Opening a group of outlet stores nationwide, as well as several accessory stores in the mid-1990s, the company launched Fossil.com, becoming one of the first on-line retailers to sell its products. In 1996 Fossil opened a group of outlet stores nationwide thereby creating its own discontinued model market channel. Fossil now produces more than 300 different styles of watches that are sold in department stores and specialty retail stores in more than 90 countries around the world.


Save up to 40% everyday at eWatches.com

---