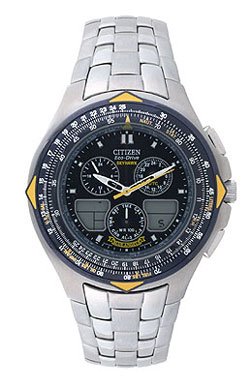 Men's Citizen timepieces
---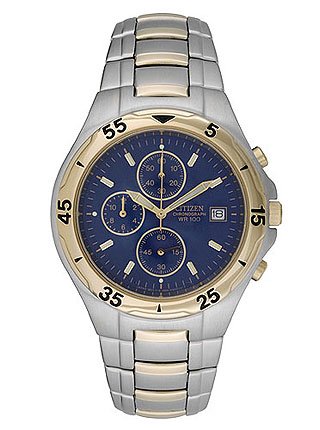 Men's Citizen watch
---



Women's Citizen timepieces
---



Women's Citizen watch
---
Citizen Watches
Founded in 1918 as the Shokosha Watch Research Institute, the Citizen Watch Co. has long enjoyed a reputation for exceptional quality coupled with dramatic advancements in timekeeping technology. This heritage led to the company's expansion into the Hong Kong and South East Asian markets in the early '60s where the Citizen watch quickly become synonymous with excellence. Today, holding countless patents, Citizen is known as one of the fastest growing watch companies in the United States.

Introduced in 1976, the Citizen Quartz Crystron Solar Cell was the world's first analog quartz watch to use sunlight as its primary power source. In 1978, the company introduced two more design breakthroughs: the Citizen 709, an ultra-slim analog with quartz movement watch which broke the 1 millimeter barrier, and the Citizen Quartz Ultra-Slim, the world's first ultra-slim LCD quartz watch. The Aqualand diver's watch, featuring the first electronic depth meter, premiered in 1985.
In 1996, signaling the beginning of a new era of eco-minded design and technology, the Citizen Eco-Drive collection made its debut. The revolutionary Eco-Drive converts light into energy which is stored in a continuously recharging second battery that lasts the life of the watch. In effect, the Eco-Drive never needs a new battery. Like its many predecessors, the Eco-Drive was a product of technological advancements, manufactured from materials developed to be highly resistant to scratch and wear, and quality controlled to provide its owner with precise performance and long-life
The Citizen line includes both men's and women's designs. Additionally, there is a full line of matching and color-coordinated watch straps to supplement your watch purchase.

"Close to the hearts of people everywhere" was the founding principle that Citizen Watch designers had in mind when they originated these exceptional watches way back in 1924 with the hope that this brand would become widely available to ordinary citizens and be sold throughout the world.

The Citizen Watch Company's founding fathers got their wish. Citizen is now the world's largest watch company. More people depend on a watch made by Citizen than any other timepiece. During the last 80 years, Citizen has expanded its business throughout the world and has achieved recognition as a global brand. The past 25-year period has coincided with the company's dramatic rise to its current position as the world's largest watchmaker, a distinction Citizen has held every year since 1986.

The Japanese manufacturer has also been able to repeatedly develop pioneering technologies that take their power from natural energy sources. From the world's slimmest LCD watch to the first voice recognition watch and the world's first professional dive watch with an electronic depth sensor, Citizen's record of world's firsts is unmatched.

One of Citizen's innovative energy solutions is called Eco-Drive and is found in many Citizen watches. Through the use of highly sensitive photocells, even the weak light from candles can be converted into electrical energy to power the watches' movement. With models ranging from dressy to sport to professional dive watches, Eco-Drive watches run continuously in any kind of light for a lifetime of use and never need a battery. These watches will not only help save you money but will also help you do your part in protecting the environment.

Besides their innovative technology, Citizen watches are characterized by a high-quality finish, superior materials and an attractive design. What other reason do you need to choose a Citizen watch?


Save up to 40% everyday at eWatches.com

---