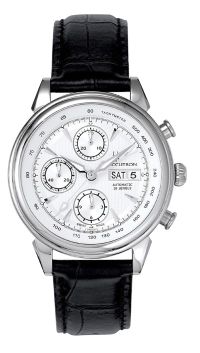 Men's Bulova timepieces
---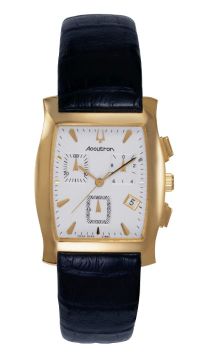 Men's Bulova watch
---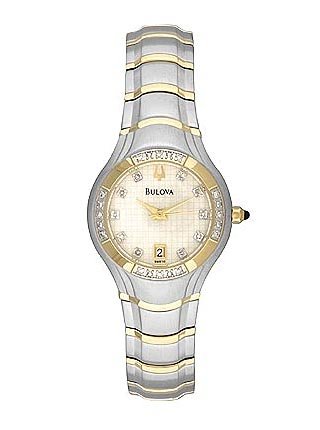 Women's Bulova timepieces
---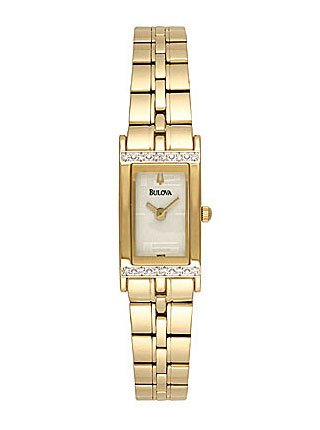 Women's Bulova watch
---
Bulova Watches
Bulova, is truly a genuine American legend. Providing quality watches and time products designed to meet the needs of the era, and leveraging innovative marketing techniques has made and kept Bulova a leader in American time piece manufacturing and sales.
The Bulova watch product line is currently broken into three main brands that are marketed to its specific target segment, and two specialty design lines. These brands are: Accutron Watches, Bulova Watches, and Caravella Watches, with the speciality brands of: Frank Loyd Wright and Harley-Davidson. Each of the main brands includes numerous collections providing variety of style and options for their customers.
Accutron
The Accutron line is the technical "high-end" offering with a custom swiss-movement and jewelry features. In this line you will find: Barcelona, Breckenridge, Chamonix, Curacoa, Eagle Pilot's, Gemini, Greenwich, Killington, Lucerne, Nantucket, Oxford, Palermo, Tahoe, Torino, ValD'Isere, Vera Cruz, York
Bulova
The Bulova name line offers great variety of high quality luxury timepieces from fine jewelry models to specialty models for recognition of fraternal or religious organizations membership. Modles in this line include: 18K gold, 14k gold, Bangle, Braclet, Crystal, Diamond, Emeritus, Marine Star, Millennia, strap, and specialty watches.
Caravella
The Carvella line offers cost conscious buyers affordable quality timepieces of various designs covering classic to sports models. These models include: Basic, Bracelet, Crystal, Diamond, Expansion, Sport, Strap, and Specialty.
Beginning in 1875 Joseph Bulova a 23-year-old immigrant from Bohemia opened a small jewelry store in New York City. This humble start would become America's preeminent watch and clock company.
By 1911, Bulova began manufacturing desk clocks, and fine pocket watches, which achieved great sales success. Wristwatches gained popular use by the military during WWI because of their size and portability. This development helped create demand and a new market which Bulova was poised to supply. Leveraging its existing production facilities and jewelry design capabilities, the company introduced the first full line of men's jeweled wristwatches in 1919. It was followed by the industry's first full line of ladies' wristwatches and the first line of diamond wristwatches.


Save up to 40% everyday at eWatches.com

Bulova's pioneering marketing techniques created the first radio commercials in 1926 and introduced the phrase "Bulova time". Realizing the potential of this medium the company began production of the word's first clock radio in 1928. By 1931 Bulova's advertising astounded the industry with a campaign costing more then one million dollars. Bulova's responded to the Great Depression by creating innovative payment plans to allow consumers to afford their products. Then, in 1941 Bulova pioneered another advertising first by utilizing the new broadcast medium of television. It's new slogan "America runs on Bulova time" was introduced in conjunction with televised Brooklyn Dodgers baseball.

By the outbreak of WWII Bulova was also producing timepieces for the US military. With the U.S. entry into World War II, the Bulova factories immediately put their perfected mass-production techniques and skilled craftsmen to work on precision military equipment. Bulova provided the U.S. government with military watches, specialized timepieces, aircraft instruments, torpedo mechanisms and fuses. At the war's end, the Joseph Bulova School of Watchmaking opened its doors to help disabled veterans become self-sufficient. The Bulova School of Watchmaking was founded to teach the art and trade of watch, clock and instrument making and repairing. Graduates of the school were expected to be placed in positions in jewelry stores throughout the country and thus be assisted in finding a new life and occupation. The school was supported entirely by the Bulova Foundation, no financial aid was received from any government agency or the students. Graduates of the school were assured employment because more than 1,500 American Jewelers pledged to provide employment positions.

In the 1950s Bulova research and development created the first electronic watch: the Accutron. This groundbreaking timepiece was capable of keeping time to within two seconds a day and was acclaimed as the first breakthrough in timekeeping technology in over 300 years.

Bulova worked with NASA during the 1960s, using its Accutron efforts into making computers for the Space Program. The result was a timing mechanism that took part in the 1958 launch of Vanguard I and continued Bulova participation in the space program up to the first moon walk on July 21, 1969. A Bulova timer was placed on the moon's Sea of Tranquility to control the transmissions of vital data back to earth. With Accutron precision available to customers, Bulova became the first watch brand to offer a written guarantee of accuracy-in-use to within a minute a month. In the 1960's Bulova also developed and introduced the Phototimer clock.
Today, all Bulova watches contain the quartz-crystal movements that are accurate to within three minutes a year.

In recently, Bulova timepieces have kept official time aboard Air Force One, and Bulova products have repeatedly been awarded to visiting dignitaries as Presidential Gifts of State. Bulova has also served as America's official watch to the U.S. Olympic Team..
---