Breitling Watches
Navitimer chronograph
---
Breitling Watches
Chronomat: Windrider chronograph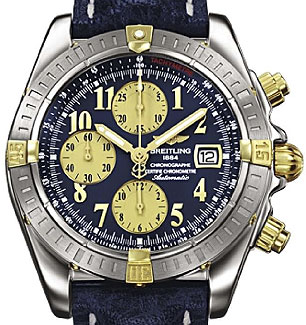 ---
Breitling Watches
Professional: Hercules chronograph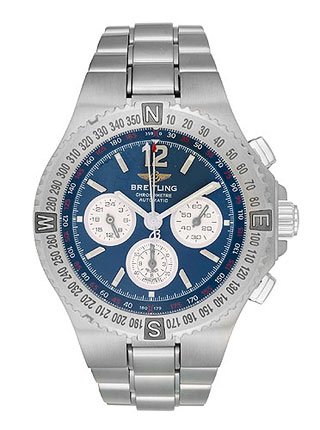 ---
Breitling Watches
Aeromarine: Superocean chronograph
Breitling Watches
High ranking style integrated with traditional Swiss accuracy and efficiency are hallmarks of the Breitling brand. All Breitling watches, (correctly called instruments), are in fact chronographs, and many include specialty functions for the aerospace or oceanographic environments.
The current Breitling instrument offering includes 4 major product lines, each having unique models to fit their special requirements, these lines include: Navitimer, WindRider, Professional, and Aeromarine.

Navitimer
This line began in 1952 and has become very popular with pilots around the world. This unique product has a special circular slide rule built into its face (called the "Navigation Computer" that allows pilots to calculate critical elements such as airborne climbing time, fuel rate consumption, navigation calculations, and the conversion of statute miles to either nautical miles or kilometers. The AOPA (Aircraft Owners & Pilots Association) named the first Navitimer as its official watch. There are several version of the Navitimer built around the same base feature configuration, they are: Navitimer, Navitimer Heritage, Navitimer World, Navitimer Olympus, Cosmonaute, Montbrillant, Montbrillant, Datora

WindRider
All Windrider derive their heritage and styling from collaboration with the "Frecce Tricolori", the famous Italian Air Force flying team. All models of the Windrider are self-winding and include a rider-tab rotating bezel. This line, available in men's and women's style, is distinctively designed and crafted and exhibit superior reliability. There are several version of the WindRider built around the same base feature configuration, they are: Chronomat Evolution, Chrono Cockpit, Cockpit Lady, Wings Automatic, Headwind, Callistino

Professional
The instruments that comprise this line are specially designed to fulfill special needs in the aviation field. These models are truly unique including features such as: a built in emergency microtransmitter, and advanced electronic sophistication. There are several versions of the Professional, each having its own specialty hi-tech features, they are: Emergency, Emergency Mission, Aerospace, B-1, B-2, Hercules.

Aeromarine
This line, (available in men's and women's style), is distinctively designed and crafted and are manufactured to the highest standards for sturdiness and reliability. These watches are for the active wearer that requires a high performance instrument designed for rugged applications in all conditions on land, sea, and air.
The Aeromarine line includes the most number of variants including: Super Avenger, Chrono Avenger, Chrono Avenger M1, Avenger Seawolf, Chrono Superocean, Superocean, Superocean Steelfish, Chrono Colt, Chrono GMT, Chrono Automatic, Chrono Quartz, Chrono Oceane.


Save up to 40% everyday at eWatches.com

Breitling History

The Breitling watch line traces it beginning back to 1884 when its founder Leon Breitling started with a small workshop in St-Imier Switzerland. The business specialized in producing chronographs and precision scientific counting devices. As a result of growth and expansion the company moved to La Chaux-de-Fonds in 1892, then the heart of Swiss watchmaking industry. Company leadership passed to Gaston Breitling (son of Leon) when the company's founder died in 1914. The company introduced the first wrist chronograph a year later in 1915. In 1923 the company introduced a chronograph with an independent pushpiece, before this the return-to-zero and start functions resided on the winding stem. Corporate leadership changed again in 1932 when the founder's grandson Willy Breitling took control. The company contributed to the distinctive chronograph style in 1934 when it introduced a 2 button device. This instrument included a second return-to-zero button and allowed the ability to "add time" to the first button. The Chronomat line was introduced in 1942 which included its distinctive circular slide rule function. This model became immediately popular with British and American pilots. The Navitimer line was introduced in 1952. In 1962 the newly introduced Cosmonaut line was aboard the Aurora 7, Mercury launch with astronaut Scott Carpenter. In 1969 the company created a self-winding chronograph that represented a major advance. In 1979 the company leadership transferred to the first non-Breitling family member when Ernest Schneider assumed leadership. In 1984 the Chronomat line was introduced and soon became the company's best selling line. In 1985 the company introduced the first of the specialty Aerospace line. In 1998 the B1 model was introduced that included the combination of a mechanical chronograph and specialty microelectronic functions. In 1999 all Breitling models were certified with the Swiss Official Chronometer Testing Institute, a feat not attained by any other watch brand. In 2001 the company introduced its "Superquartz" movements with improved accuracy and high reliability.



---